Spreading care from the inside out
The co-creation of the culture and brand pillars called for a deep understanding of the organization. We immersed ourselves in its history, current context and future prospects. We conducted workshops, interviews, focus groups with employees/stakeholders, and surveys to better understand the client's reality.
As advised by one of the principles of building a cult brand ("have a purpose"), we thought together about the pharmaceutical company's purpose, introduced by a manifesto: "Do with love to live better." The joint development of the culture strategy also involved the definition of values, behaviors and desired skills for the organization's members.
The love for providing well-being and care, so visible in interactions with the organization, served as a guiding principle in the development of all strategic and identity elements.
A name that connects with people
In addition to the conception of its positioning, attributes and business vision, we induced reflections on the brand name. At first, we realized that part of the public with whom the brand related was pronouncing "Kley" inconsistently (sometimes [ˈklaj], sometimes [ˈklaj]).
At the same time, some people also preferred to call the pharmaceutical company just "Hertz", an anglicization of "Herz", a German word meaning "heart". Thus was born the idea of simplifying the brand name, which in addition to facilitating its pronunciation, derives from a term that carries its essence.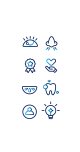 A brand made with the heart
The identity and its developments came to life following the same source of inspiration of love for promoting care and well-being. The meaning of the name was the starting point for the logo, inspired by the heart that was already part of the brand's history, but now opens up to welcome and care for people even more.
The symbol gained prominence throughout the identity, being used both as graphics or mask, "embracing" the images that convey welcome and care. For the typeface, a typographic family designed by a Brazilian foundry was chosen, reinforcing the Brazilian character of a brand with a presence in the homes of millions of Brazilians.
For the verbal identity, we created a tone that speaks from the heart, bringing an always positive look to deal with even the most delicate topics, and that conveys the credibility of a brand that has built a history of excellence.








Once the cultural strategy was defined, we worked on a dissemination plan, called "Pulsar Program", with suggested actions and instructions for its implementation.
The same plan involved guidelines for activating the new brand. We delivered the plan and continued our partnership in support sessions for the team responsible for giving traction to the brand's turnaround.